Great American Eclipse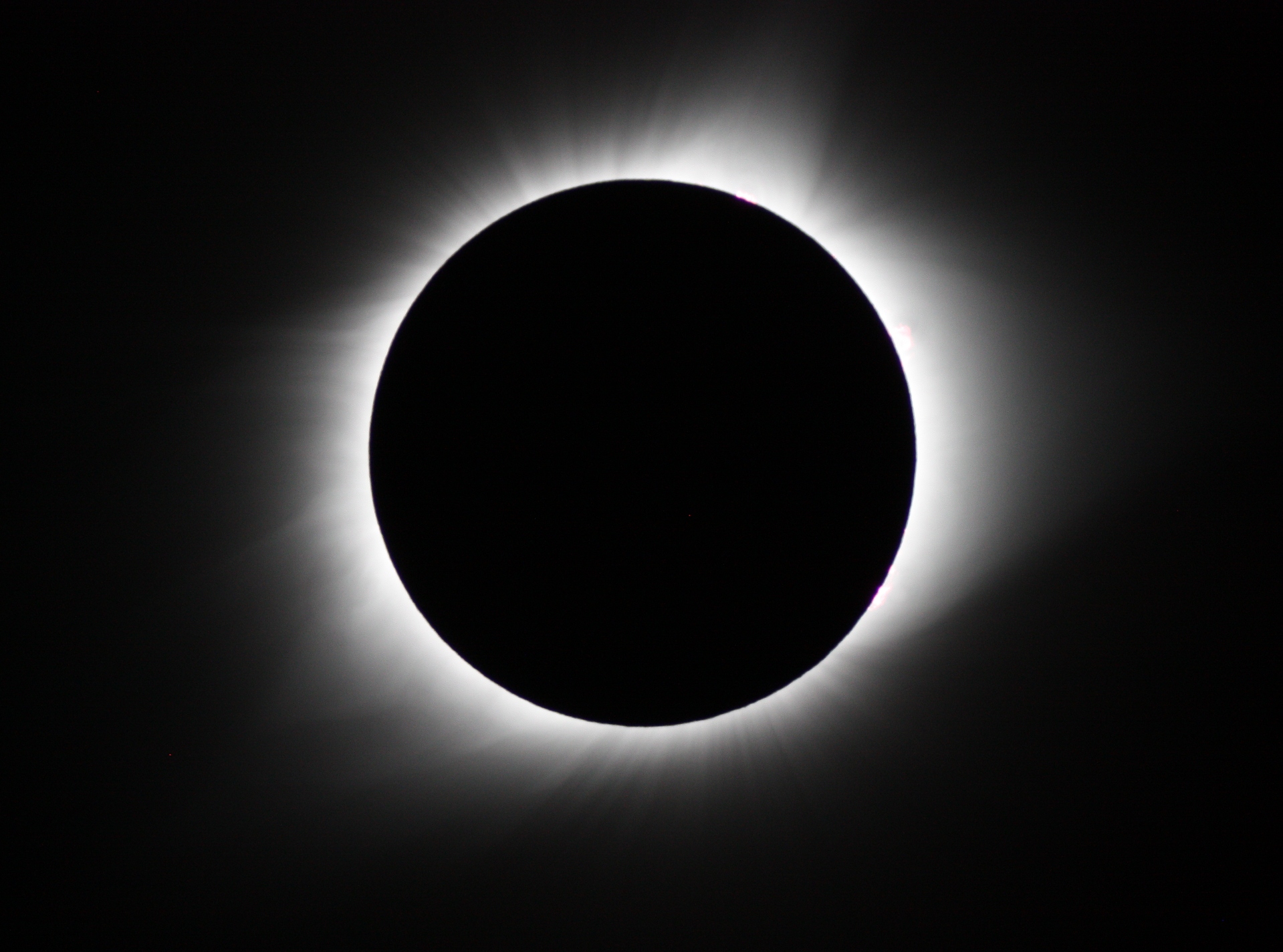 Observing the total solar eclipse on Monday, August 21, 2017
The Journey Begins
Billed as the "Great American Eclipse", the solar eclipse of August 21, 2017 had a path of totality that stretched across the United States from Oregon to South Carolina. While the entire country could see a partial eclipse given good weather, there was only a narrow path of totality that went across the country, of about 70 miles in width. In the center of that totality band, observers could experience totality for the greatest amount. My goal was to be somewhere along that path of totality, and as close to the center line as possible. And of course, to have clear skies. From my area in Raleigh, North Carolina, probably the shortest distance to totality would be to head toward Columbia, South Carolina. However, to see the solar eclipse I needed clear skies. The weather forecasts weren't all that great, and typically the central portions and especially the western portions of the United States have more clear days. With no particular destination in mind, other than the path of totality, my wife Lynn and I packed up the truck and headed out at about 4am on Saturday, August 19, 2017. We headed west. We were thinking about the Nashville, Tennessee area as a first stop, with the possibility of continuing on to Central Island, Nebraska. From there, we would strike out again based on weather reports as the big day got closer. The wrench in this plan, other than the sheer number of driving hours, and the ever changing weather reports, were that hotel rooms were completely booked up. Given we never had a solid destination, I didn't book any reservations and knew that we wouldn't be able to find any. I packed sleeping bags and a tent, and expected to sleep in the truck a bit. After the first leg of the trip, we stopped in Cookeville, Tennessee for lunch and rest, with the intentions of continuing on to Nashville. The sister of a co-worker had offered her backyard as a place to put up a tent. If we continued on to Nebraska (a VERY long drive), an ex-in-law offered to put us up.
After eating lunch in Cookeville, we consulted the weather report. The initially clear skies for Nebraska were now starting to look cloudy. And Nashville didn't look any better than Cookeville. So we abandoned our plans for Nebraska and possible further west, and decided that we'd take a chance on Tennessee, or possible backtrack to the south western mountains of North Carolina, or possibly into South Carolina. We figured we'd push on to Nashville later that evening and camp. We explored the area a bit, browsed a couple of antique shops, and on a whim checked on hotels. Actually found a few rooms at a decent price! New plan! We decided to stay the night in Cookeville in a nice hotel room, and then base our destination on the weather report in the morning. Excellent stay in the hotel, with a comfy bed, movies to watch on TV, and a great hot breakfast on Sunday morning.
The Sunday weather report didn't give me any concrete plans for where I wanted to go. All my possible destinations had the same basic weather reports, with the big day starting out sunny but with some clouds rolling in during the afternoon. All it would take is for one little cloud to park itself in front of the sun for 2 or 3 minutes and we'd miss totality. My western boundary was going to be Nashville and my eastern boundary would be somewhere in South Carolina. I was constantly checking the weather reports for all the possible cities. I was also in contact with a fellow Raleigh Astronomy Club member via email as we analyzed the reports. We ventured out a bit to some of the small towns along the path, driving around and sightseeing. There were no hotel rooms available for Sunday night and if you did find one, the price was astronomical (pun intended). We saw prices of $500 for a room, and that was at some no-name, dumpy looking motel. So, we were going to be gypsies for Sunday night and figured we'd try to get some sleep in truck, maybe in a Walmart parking lot. With nothing but time to waste, and not feeling that great about evening "accommodations", we decided to take in a movie. We were too late for our choice movie, but the other one turned out good (Kidnap, with Halley Berry). Because of circumstance, we chit chatted with another couple that saw the same movie. On the way out, they saw us sitting on bench, contemplating what to do as we had no place to go. They struck up a conversation with us and we told them our plight, why we were in town, etc.
In a grand demonstration that proves there are still good people in this world, they offered to put us up in their vacation house on a local golf course. Here we were, perfect strangers to them, in a world that often seems full of bad people, and they were offering to take us in. We gladly accepted! Not only that, we also went to dinner with them at the country club for the golf course, had homemade frozen custard, and enjoyed a wonderful evening of fellowship. Lynn even helped them work on a big jigsaw puzzle! We went from living like gypsies and hobos to living like we were royalty. We can't thank this couple enough for their hospitality. The new plan was to get up early, check the weather, then head out to the best place within a couple hours drive radius.
The Grand Day
The weather report for eclipse day was pretty much the same, but I considered it more accurate given the event was only a few hours away. Everywhere seemed to have a sunny morning forecast with a mostly sunny forecast for the afternoon. I picked out Spring City, Tennessee for our ground zero as the center line of the path of totality passed right through it, and weather report had the afternoon clouds arriving an hour later than other places. It was a typical small town, complete with an old train depot and caboose on display. Traffic was light getting there, but towards the town section it was getting more and more busy and congested. We decided not to get in the thick of it, but instead to find just some spot along the road from which we could observe. We found a small church, the Spring City Baptist Church, within sight of the totality center line and thought their parking lot and lawn might be perfect. The problem was, how to get permission so we wouldn't be trespassing. I called the number I saw out front, and left a message for the pastor. As I waited, other folks also decided it was a great location and they started parking and setting up. The pastor soon showed up and he proved to be another blessing on this solar eclipse journey of ours. Not only did he give us permission and free parking (other private spots where charging), he also opened up the church so we could have some air conditioned space, bathroom access, ice water, etc. This was a very small church, with a congregation of about 30 to 50 people, but this pastor knew how to take care of the masses. And as it turns out, this was a great location because of the variety of people that showed up. They were from all over. New York, New Jersey, Kentucky, Georgia, Texas, and even Maine. And of course some locals from Tennessee. We had great fellowship and a fun time just talking and getting to know each other. We even shared our observing equipment. We also walked down to the city center to see if there was anything interesting down there. Was kind of disappointed that we didn't find any eclipse vendors because we were hoping to buy an event t-shirt. I guess those kind of vendors were in the bigger and more populated cities. We did meet an interesting little boy on the sidewalk, who was around 10 years old. He asked my wife, in a slow Tennessee drawl, if she was from Tennessee. When she said no, he asked her to sign his book. Apparently he was collecting names (and where folks were from) from various visitors. We were only from the state next door but we signed his book.
I've been a basket case for the last week or so, and even more so up until the eclipse. I just wanted to be in the path of totality with a clear sky. These type events are often a once in a lifetime spectacle. As the time neared toward the beginning of the eclipse, a few clouds formed here and there on the horizons. They had me worried. There were some ominous looking clouds peeking over the mountains to the west of us that really had my attention. But as the day wore on, based on how slow they were moving, I figured they wouldn't pose us any harm. I was right. From first contact until after totality, not a single cloud got in our way.
While the sun was pretty bland a couple of weeks ago, on eclipse day it offered up a few sunspots. There were a string of about 4 sunspots near the center, looking very much like the chain of Hawaiian Islands to me. There were also a couple of sunspots near one edge. These wowed the visitors that took a peek through my telescope, a Vixen 80mm refractor, with a 32mm eyepiece. I was using a Thousand Oaks solar filter. First contact with the moon came just after 12:00pm local time. Over the next hour and a half, the moon slowly crept over the face of the sun. I snapped pictures, looked through the telescope, looked through binoculars, and did a lot of naked eye observing. I think the best part was sharing the view with all the folks around me. While some were diehard observers and photographers, and came prepared, a lot were just folks that showed up with purchased eclipse glasses. While they did enjoy the grand show, better equipment gave better views. A big hit of the party was a naked eye viewer I made with purchased solar filter material. I cut a 2" by 6" rectangular hole into a sheet of poster board about the size of a sheet of paper. I installed the filter material in that hole. To use, you just hold it up toward the sun and look through the rectangular slot. It's great in that it blocks the brightness of the sun out and gives you a good view. I got the idea from when I had to build something to hold some welding glass for a solar eclipse we had out in Seattle back in the early 1990s. People even used them with their cameras. They came by again and again to take a peek. I call it a "Solar Window".
As totality neared, we noticed not only a drop in the light levels, but also a noticeable drop in the temperature. It went from a hot, sweaty day to feeling pretty good. There were two amazing things about the light level. First was the overall color of it. It was strange being in sunshine, but everything being dimmer. My son gave it a good description of being "tinted". That's exactly what it looked like, as if you were looking at the world through tinted glasses. Secondly, although diminished, I was still amazed at how much light the sun put out even though it was 90 something percent covered. Amazing!
Totality
We had totality at about 1:28pm local time. While a 90 something eclipsed sun is a wonderful and awe inspiring sight to behold, the difference between a 99 percent eclipsed sun and a totally eclipsed sun is like the difference between night and day. Nearing totality, we noticed the stars and planets starting to appear. Venus, the brightest "star", showed up first toward the west. The security lights around the church started to come on. When the moon totally eclipsed the sun it was an amazing sight to behold. Invisible only seconds before, the sun's corona appeared like a blossoming flower. Irregular in shape, it had various lines that radiated out like spokes. More stars appeared in the sky. Regulus, the main star of Leo the lion, was prominent near the sun. The sky and surroundings looked like a deep twilight. However, the lighting overhead, from the corona, gave a pale illuminating glow to everything. The entire horizon, 360 degrees, had red tinges of a fading sunset. Beautiful. You could hear the literal oohs and awws from the crowd. And given it was total, there was no need for any special filters or glasses. Looking up at the grand celestial display, I had goosebumps. My wife Lynn seemed to be lost in a trace, repeating over and over, "take a picture …. take a picture …. take a picture…". As the eclipsed progressed, we were also treated to several naked eye solar prominences along the limb. I was so enthralled with the overall spectacle, it took me a few moments to realize that the reddish finger looking appendages were the solar prominences. Given we were on the center line, we had totality for about 2 min 40 secs. It was over much too soon. As the sun peeked around the edge of the moon, I managed to snap a picture of the diamond ring effect.
As the moon started to retreat, the light levels started to increase in the reversal of the previous progression. People started to pack up, though the diehards kept photographing and observing. After a while, we decided it was probably best to get on the road ourselves. Despite all the blessings we had before the eclipse, the trip home was a nightmare. As predicted, the roads were absolutely packed. It alternated between regular highway speeds to fully stopped on the interstate. The final straw as when we had been creeping for a couple of hours, but mostly stopped, and learned it was due to a wrecked 18 wheeler truck and that the Interstate was shut down. With still 4 hours of normal driving left, we ignored the "no u-turn" and "official use only" signs and crossed the median to head back west to the previous exit. We pulled into an empty parking lot of an ABC Store and snoozed until about 5am or so. We got back on the road and arrived home Tuesday morning, about 12 hours after we should have gotten home if the roads had been normal.
While the trip home was miserable, seeing a total eclipse in person was worth it. We enjoyed the astronomical display and the fellowship and kindness of those we met along the way. I'm so grateful for the people we met and of course the good weather. Best total eclipse ever!
Jeffrey L. Polston
---
Images
The Site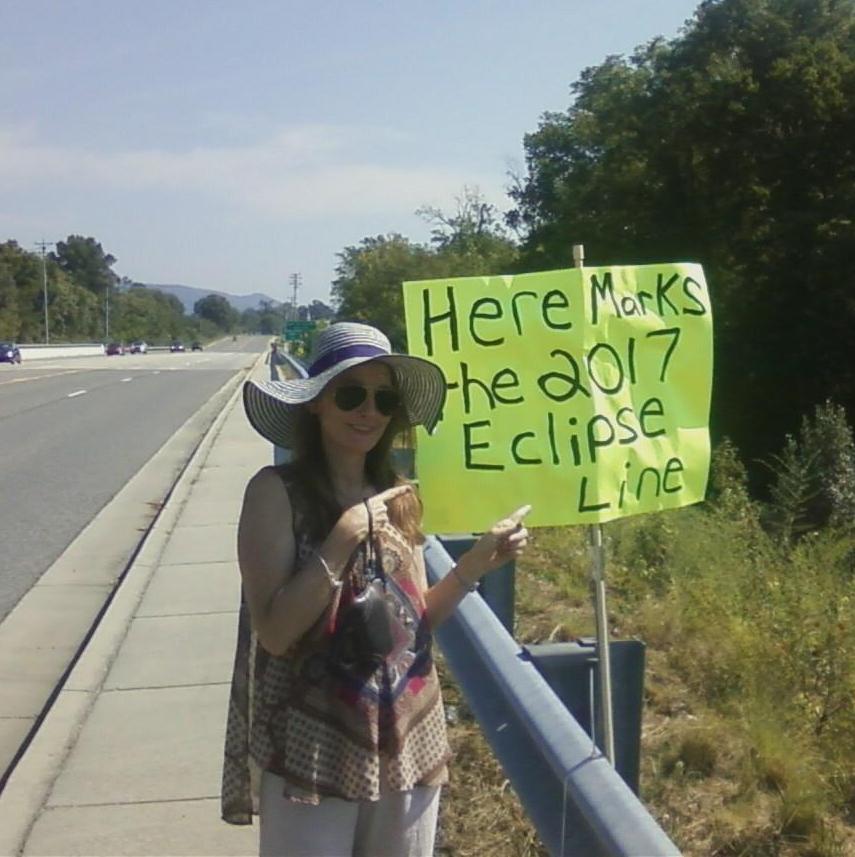 My lovely bride Lynn, at the center line of the total solar eclipse. Spring City, Tennessee. We setup just past the bridge in the background, at a small church.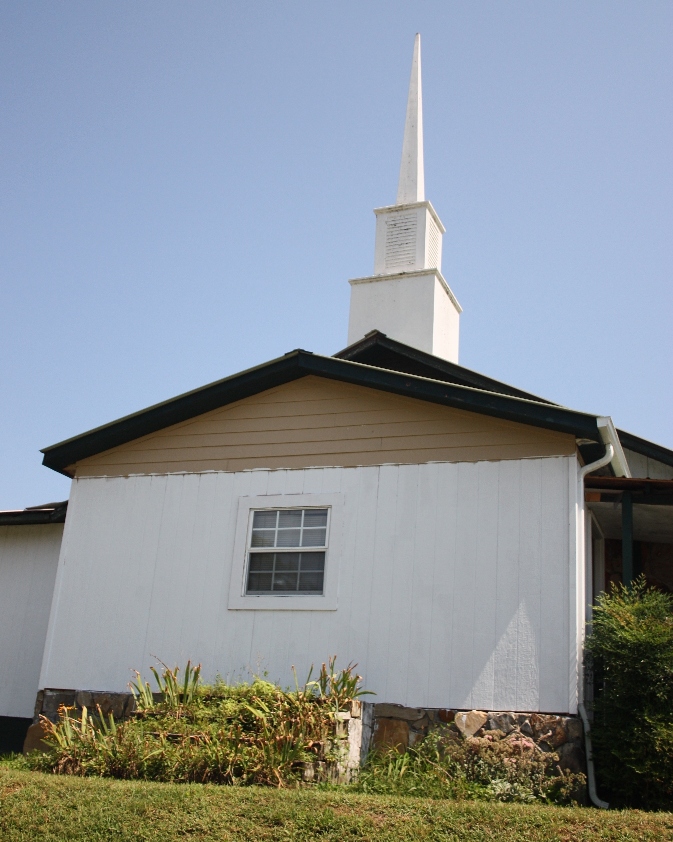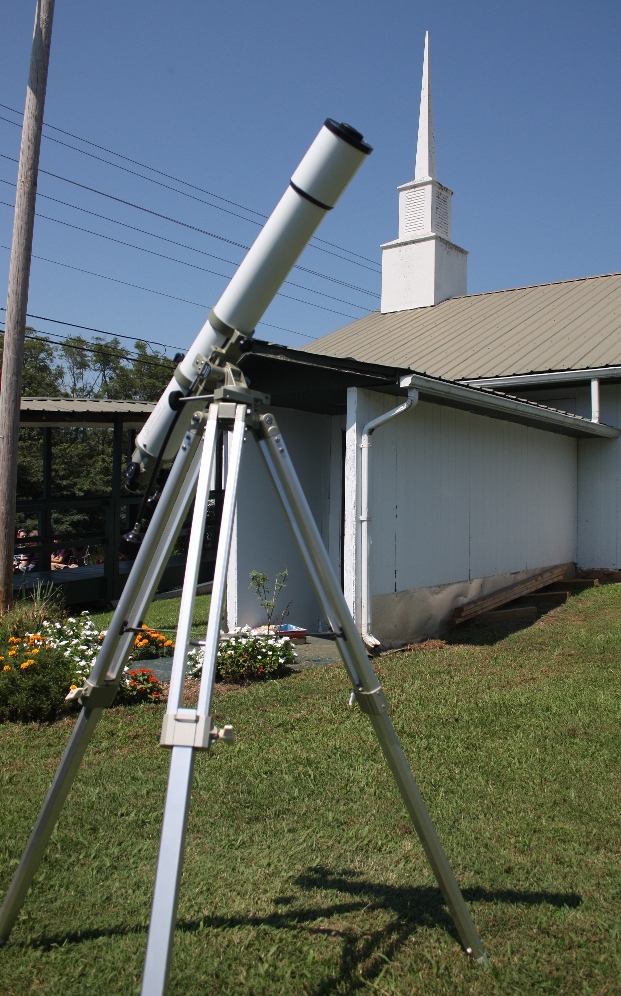 Spring City Baptist Church, Tennessee. That's my Vixen 80mm refractor. It has a focal length of about 900mm. It framed the sun perfectly for my digital SLR camera. I used a Thousand Oaks glass solar filter for the partial phases.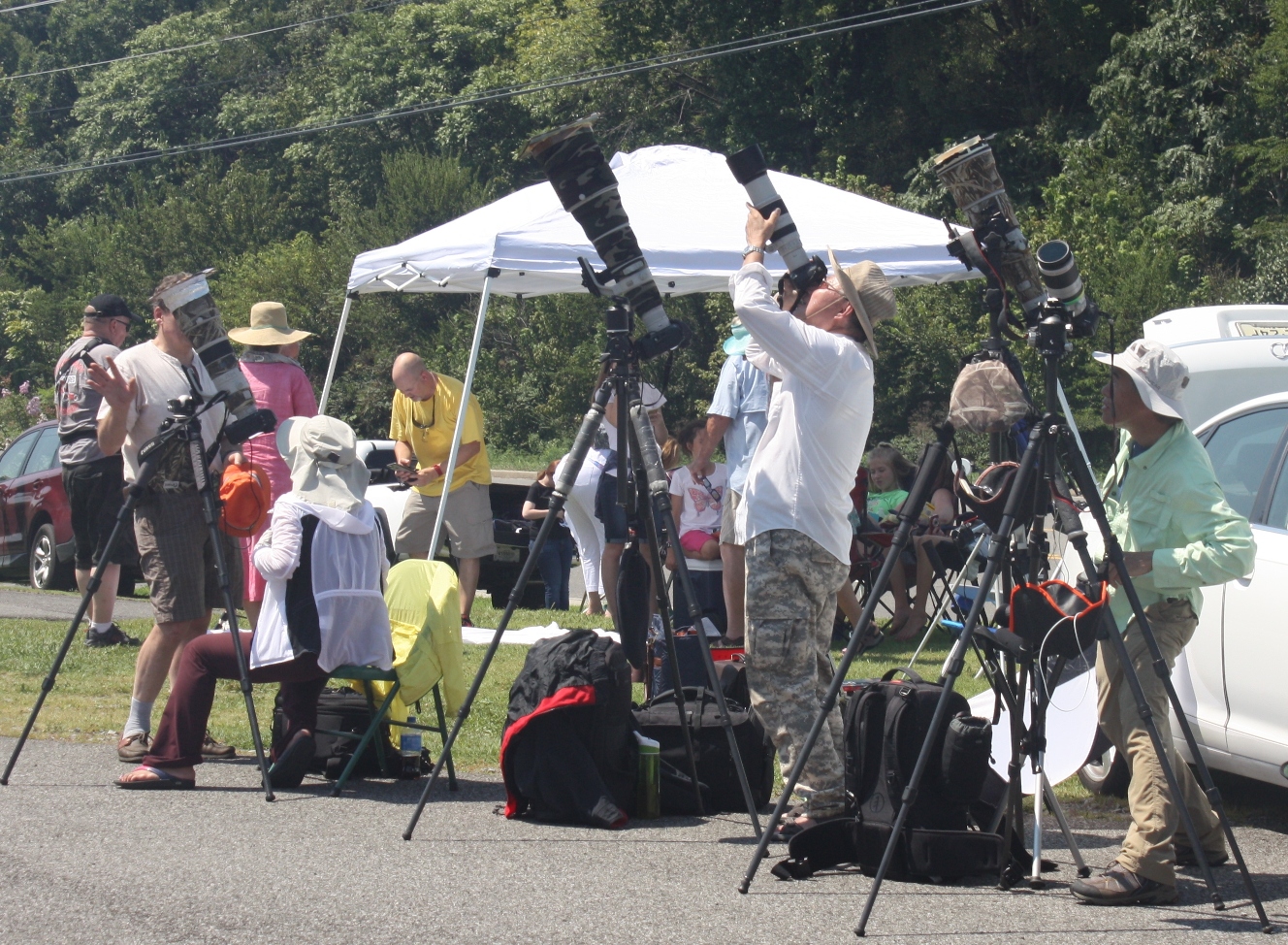 Fellow eclipse enthusiasts. The folks with those large camera lenses were the most dedicated. As others packed up, they were still observing and photographing.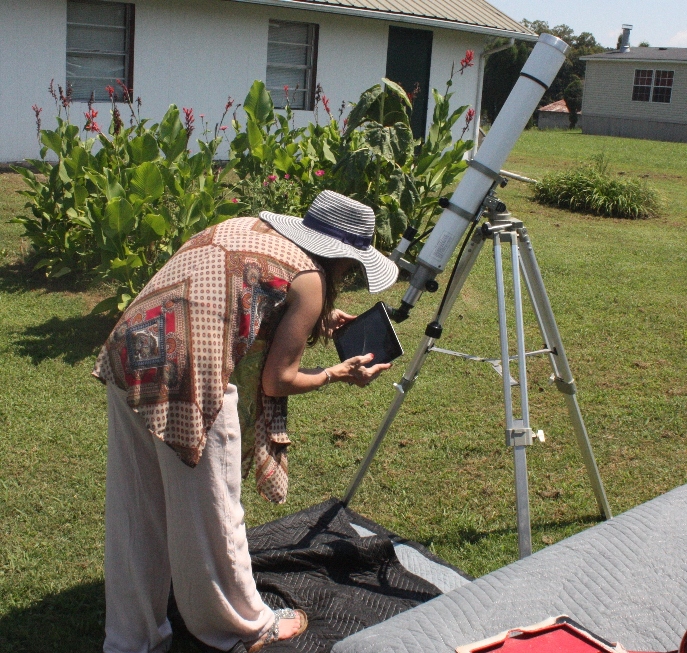 Lynn attempts to snap an image at the eyepiece.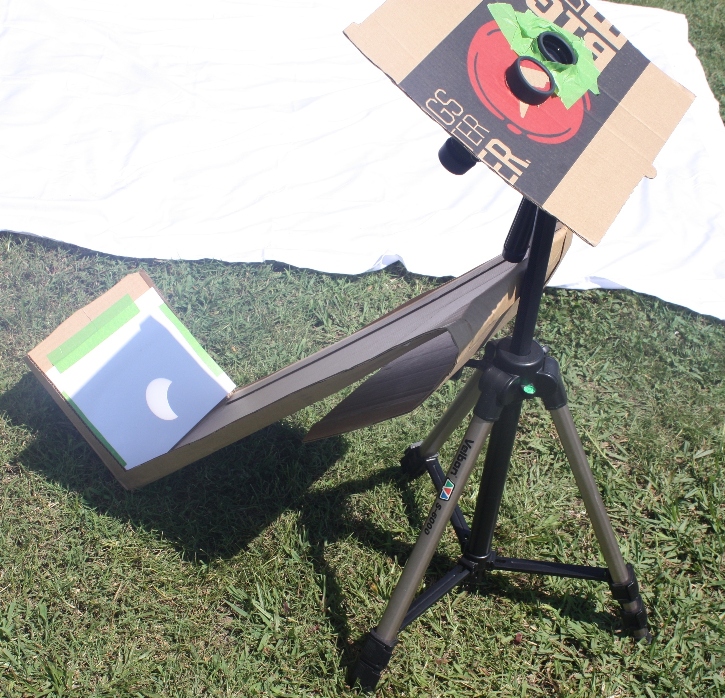 Someone made a projection system with binoculars.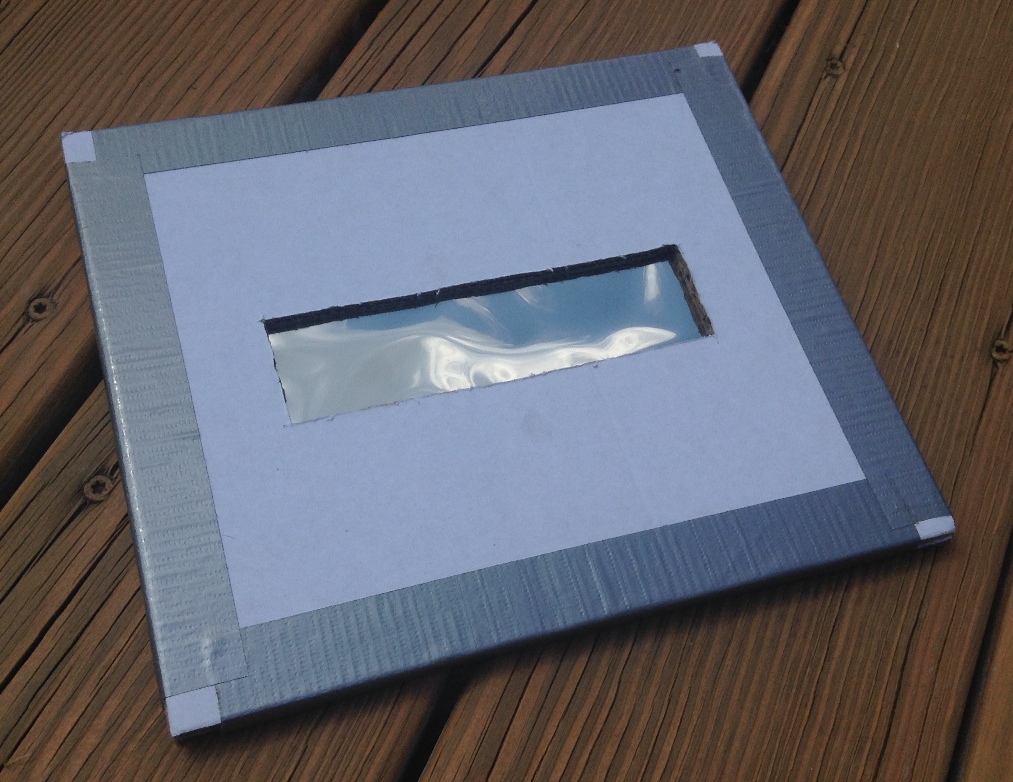 This is my "Solar Window". I made it with Thousand Oaks black polymer solar filter material. It was the definite hit of the party as it gave better views than the cardboard glasses most people had, and they could still see their surroundings while using it.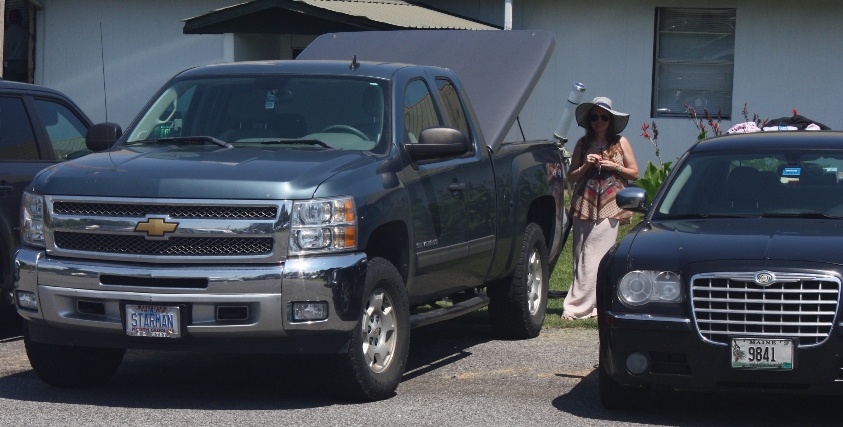 My lovely bride.
---
The Eclipse
The images below are of the eclipse. All except the two by Lynn were taken at the prime focus of my Vixen 80mm refractor, with a digital SLR camera. The images have been cropped and reduced in resolution. They appear smaller here because they are resized for the webpage. If you want larger copies, just save the image to your computer. This should be sufficient for most of your needs. If you want the full resolution image, I'll have to email it to you.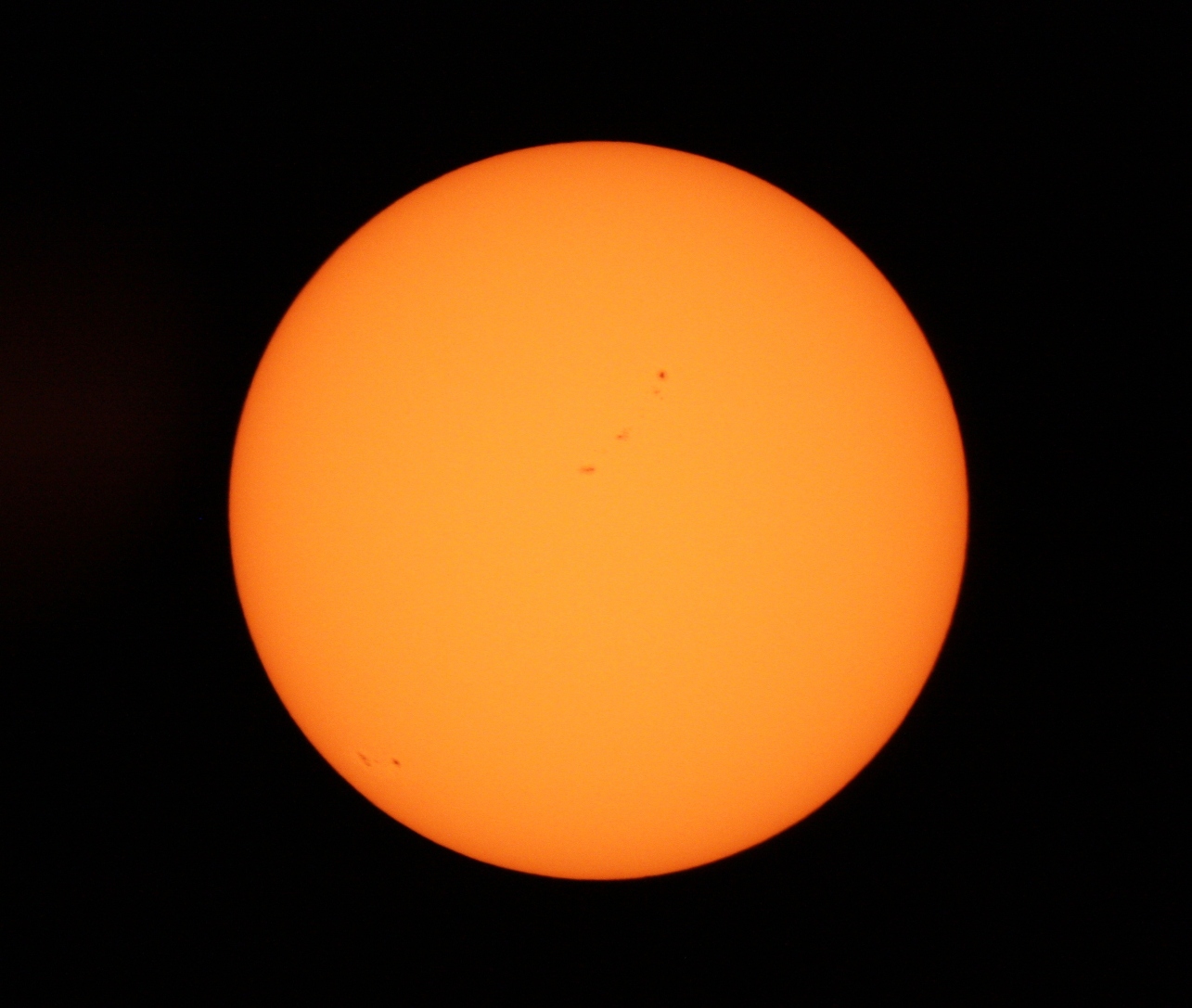 Image of the sun just before the start of the eclipse. Notice the sunspots just above the center, and in the lower left. They were too small to be seen with the naked eye, but showed up easily with magnification. They could be seen through my 10x50 binoculars (which I also had made filters for).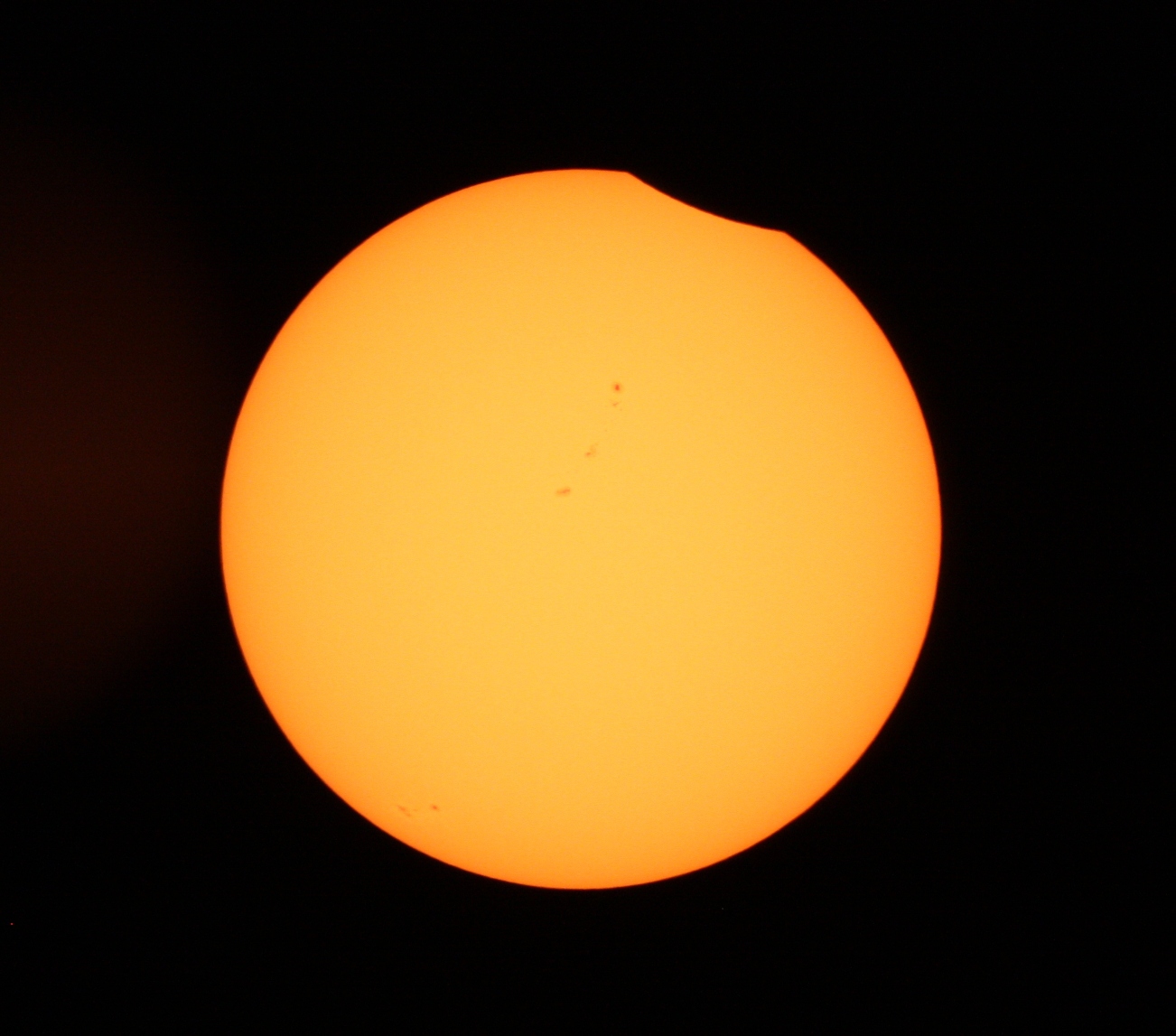 The eclipse begins, with the moon taking its first bite out of the sun. Just after 12:00 noon, local time. The crowd reacted jubilantly at this sight.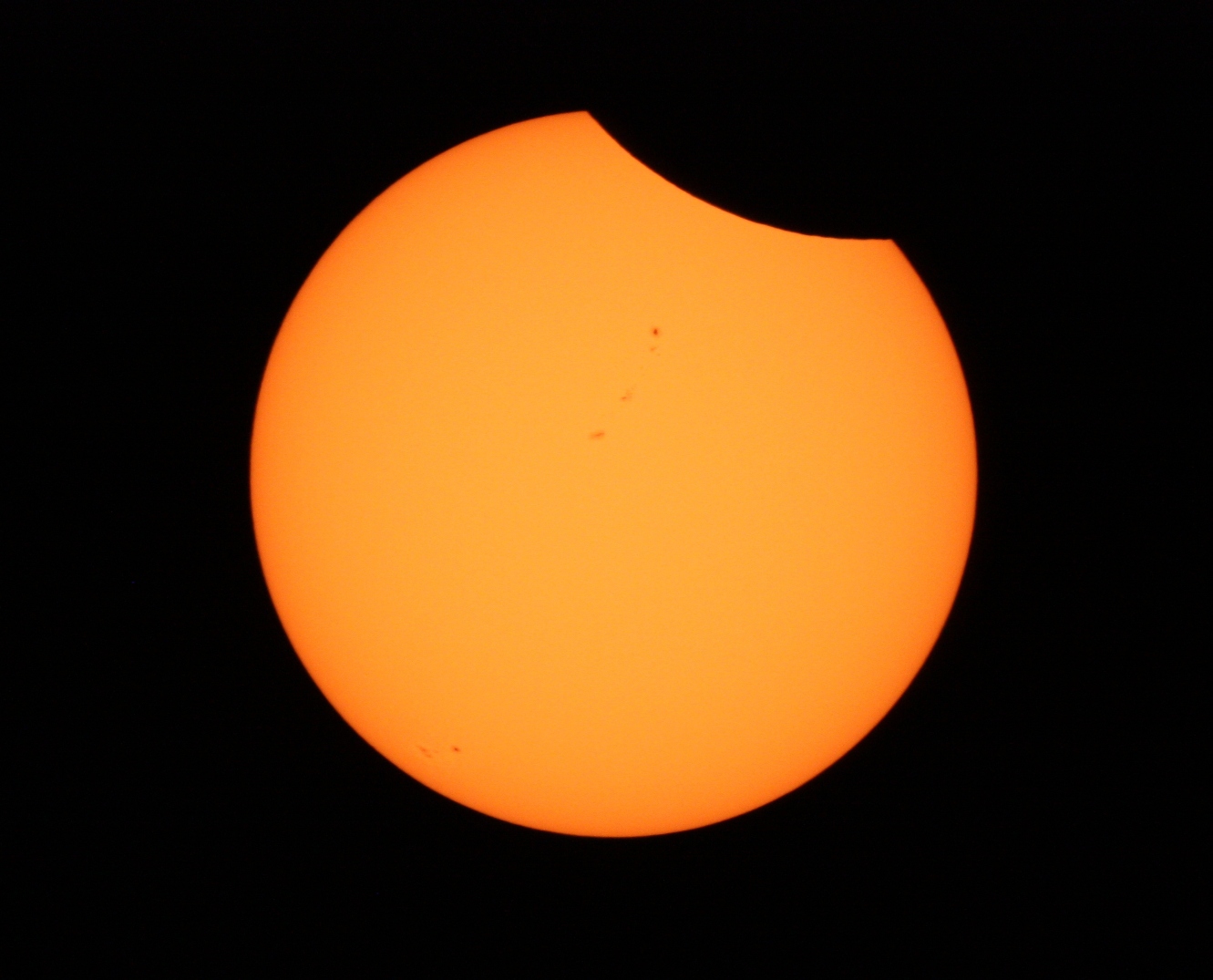 The eclipse progresses...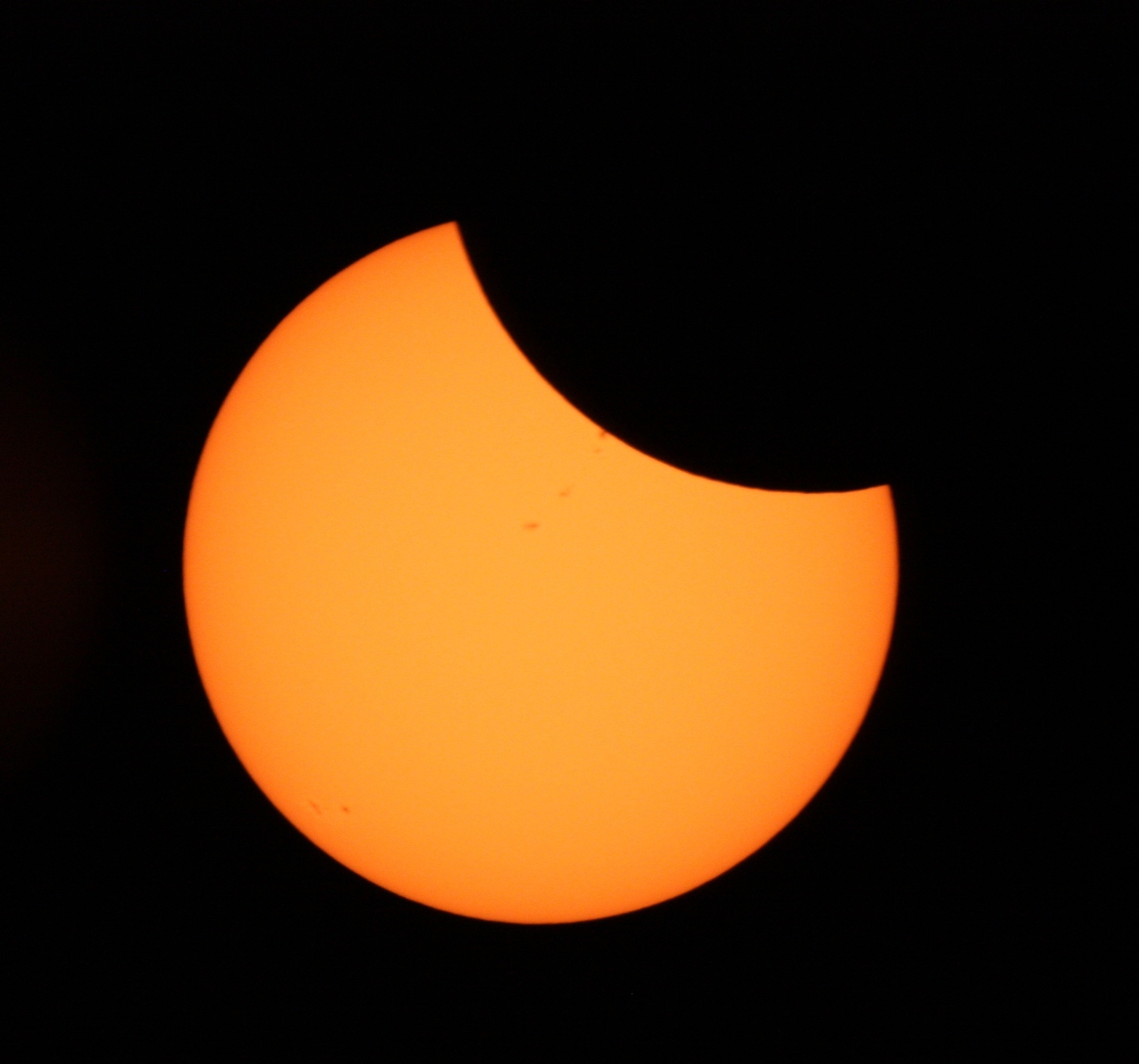 The eclipse progresses...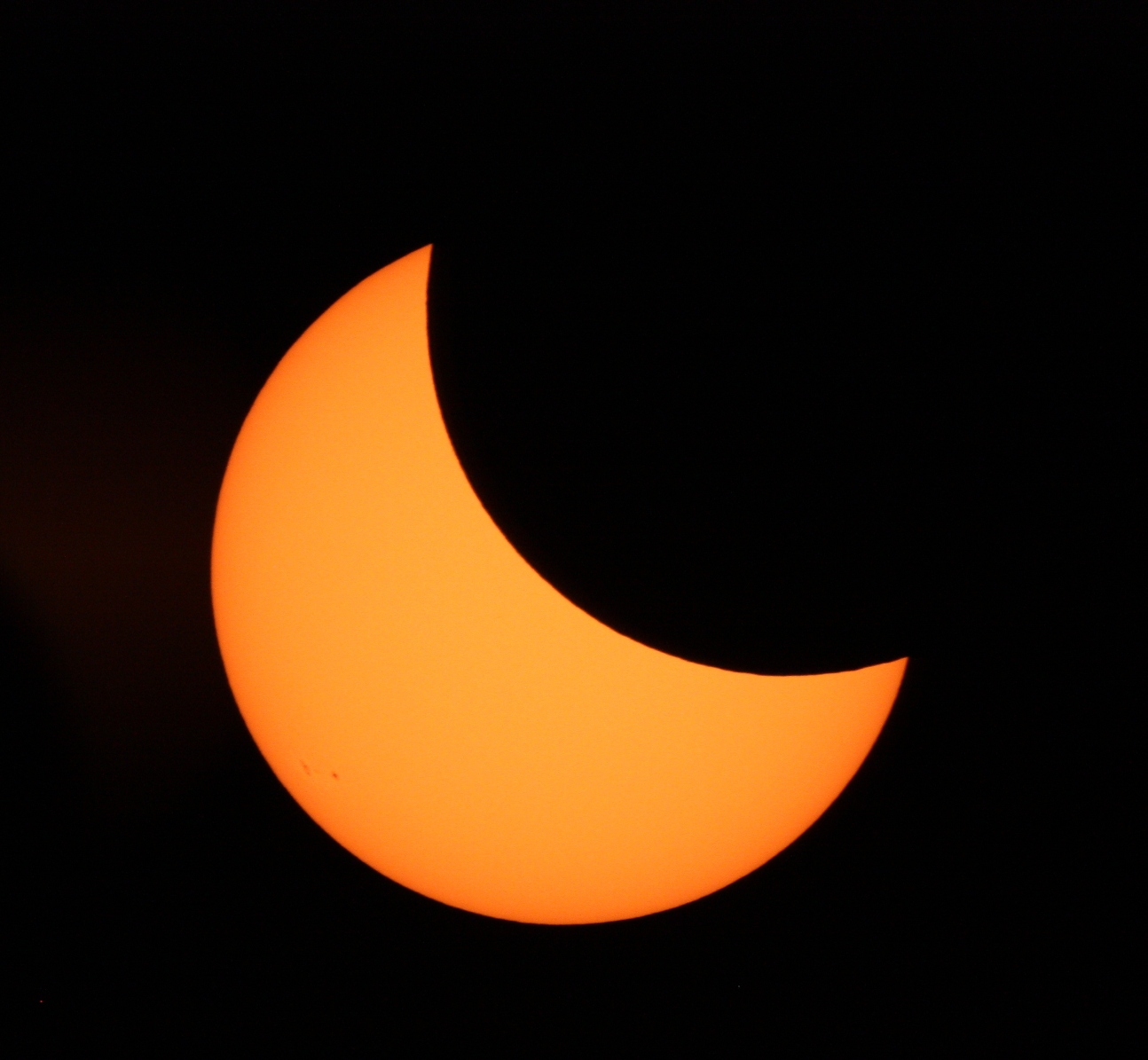 The eclipse progresses...
The eclipse progresses...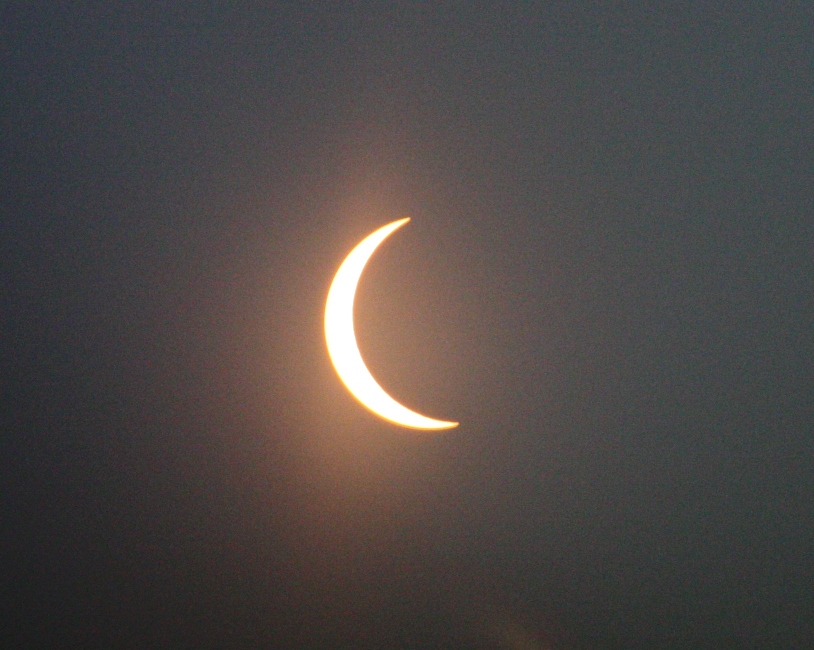 Lynn snapped this image by holding the camera up to my "Solar Window" eclipse viewer. Pretty good shot!
The eclipse progresses... getting pretty thin. This is about how the eclipse looked from our hometown area of Raleigh, North Carolina, at its maximum amount.
The eclipse progresses... thinner still. The amazing thing is that as thin as this was, the sun was still very bright.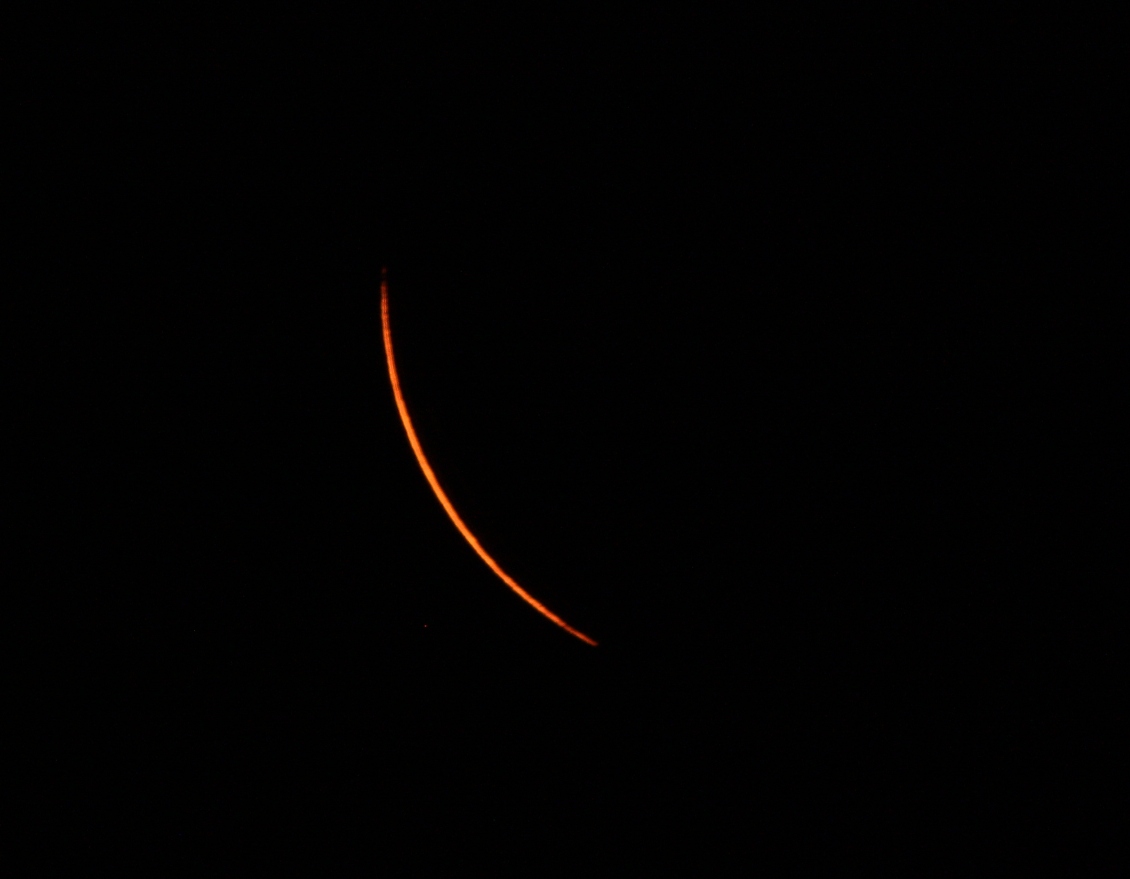 Just a small sliver of the sun is left. This is it! Take a deep breath and hold on to your hats!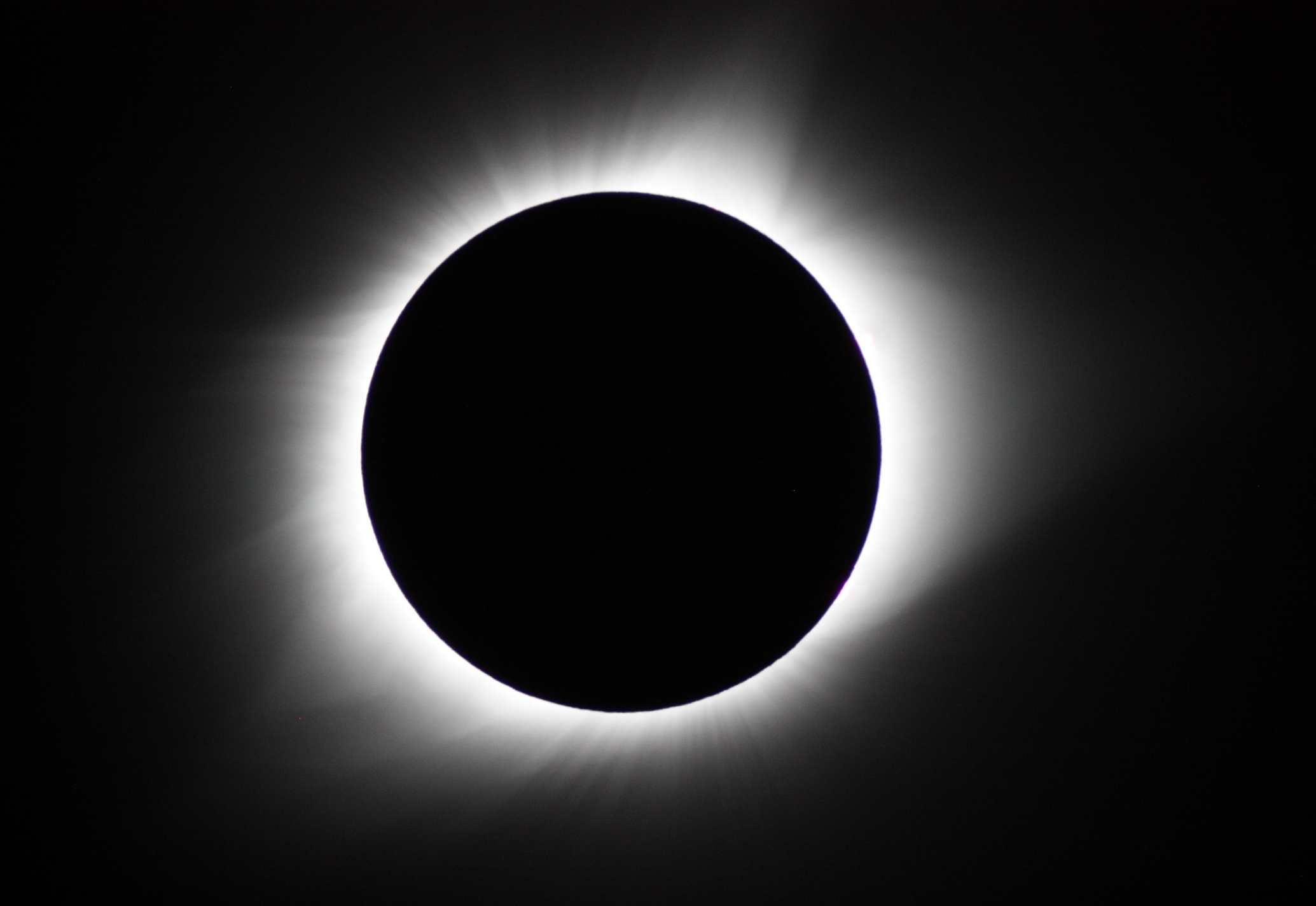 Bam! Total solar eclipse, Spring City, Tennessee, August 21, 2017, about 1:28 pm local time. Lasted for about 2 min 40 sec. Given it was total, with the sun completely covered, there was no need for any special filters or glasses. We looked at it with our naked eyes, and through binoculars and telescopes, without any kind of filters what so ever. It was a beautiful sight to behold. With the sun's surface totally blocked out, the corona emerges. The corona is an aura of plasma around the sun. It extends millions of miles into space. Notice the irregular shape and the various radial lines. You can read more about the sun's corona here: https://en.wikipedia.org/wiki/Corona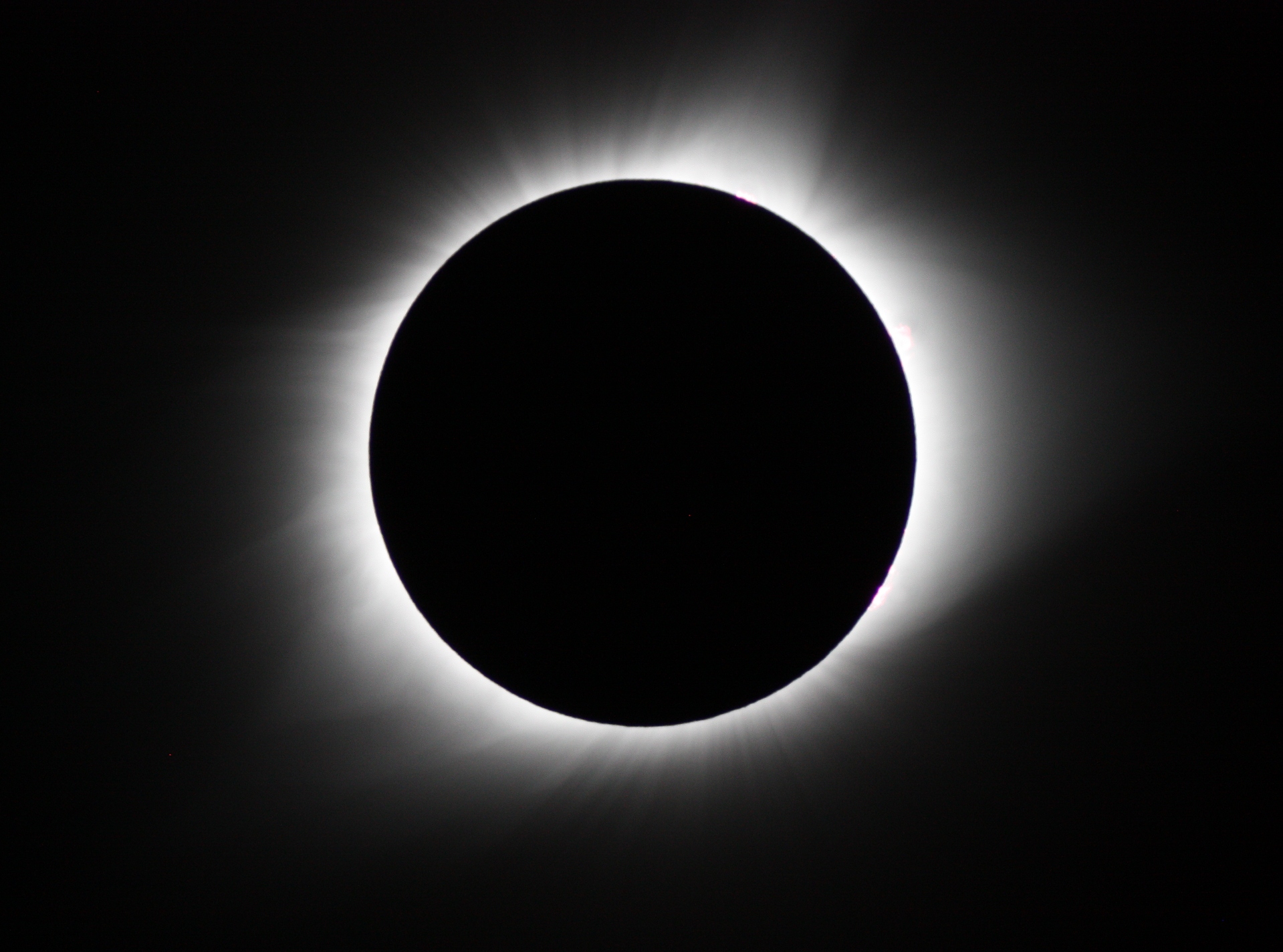 Slightly faster shutter speed.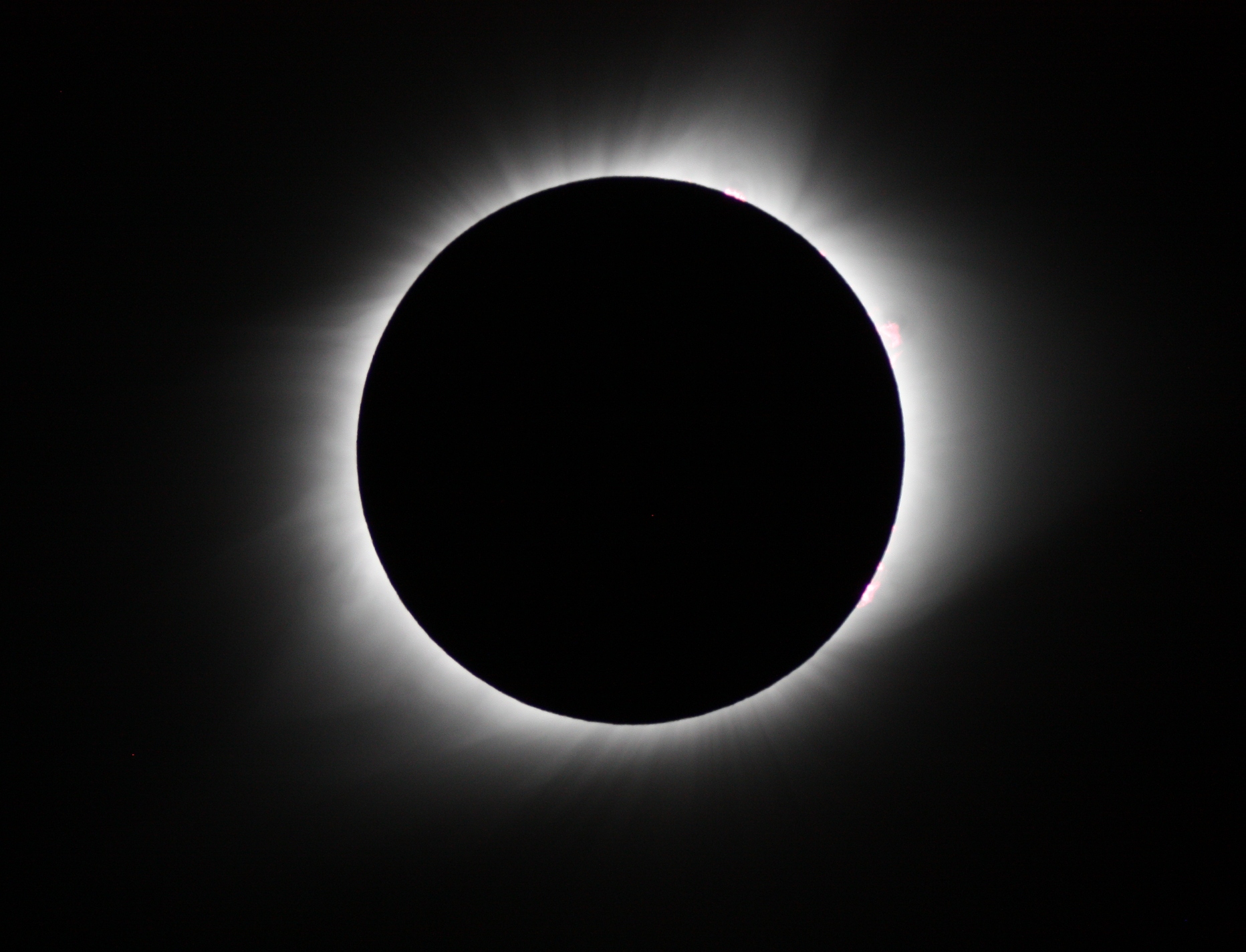 In this image, you can see three solar prominences. They appear as little reddish flames. One at a little less than the 1 o'clock position, one at about the 2 o'clock position, and one at about the 4 o'clock position. If you download the larger image, it's easier to see. Solar prominences are plasma that extend from the surface of the sun, often in a loop shape.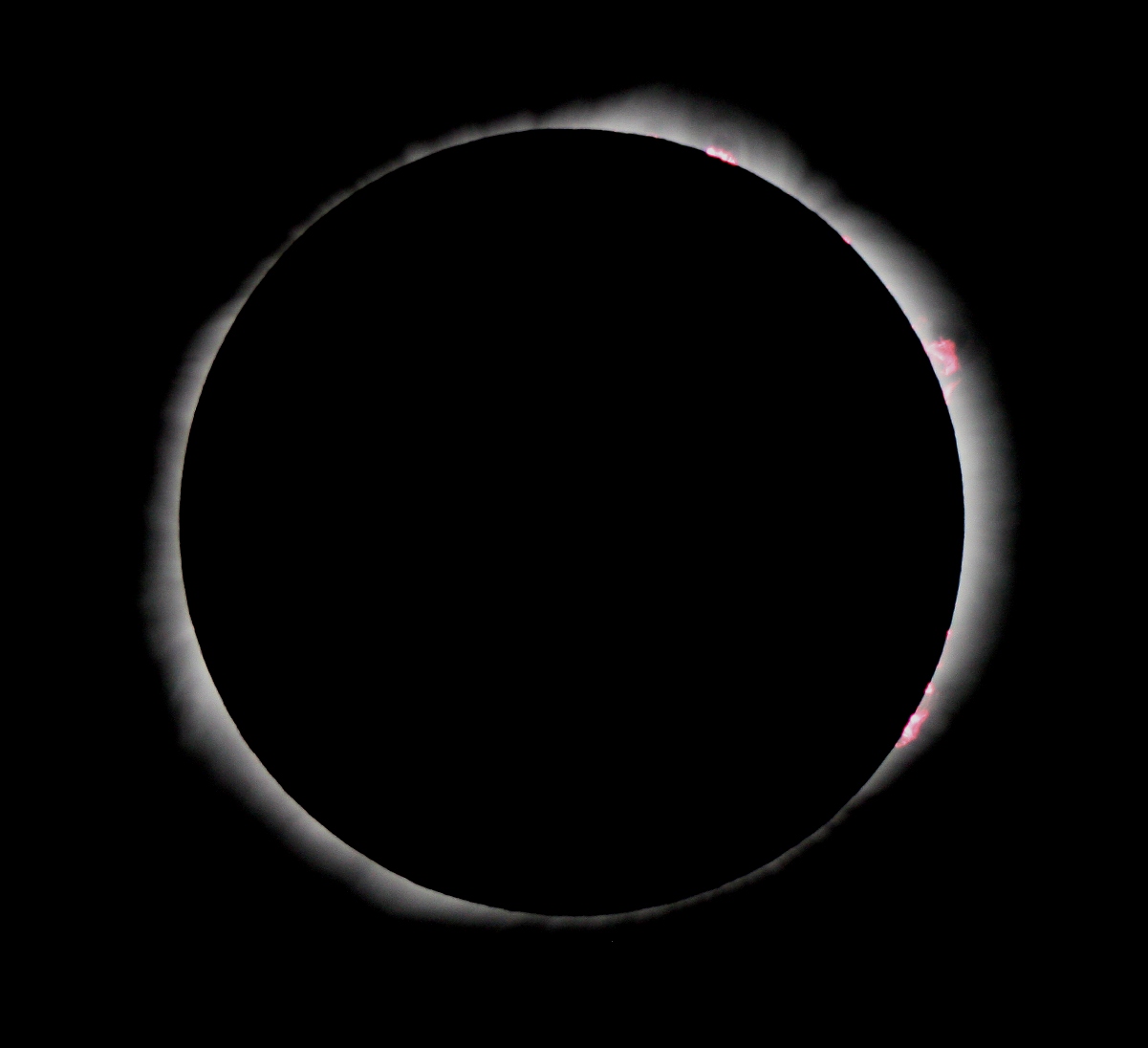 Here's the same image as above, just processed and enlarged a bit so that the solar prominences are more easily seen. You can read more about solar prominences here: https://en.wikipedia.org/wiki/Solar_prominence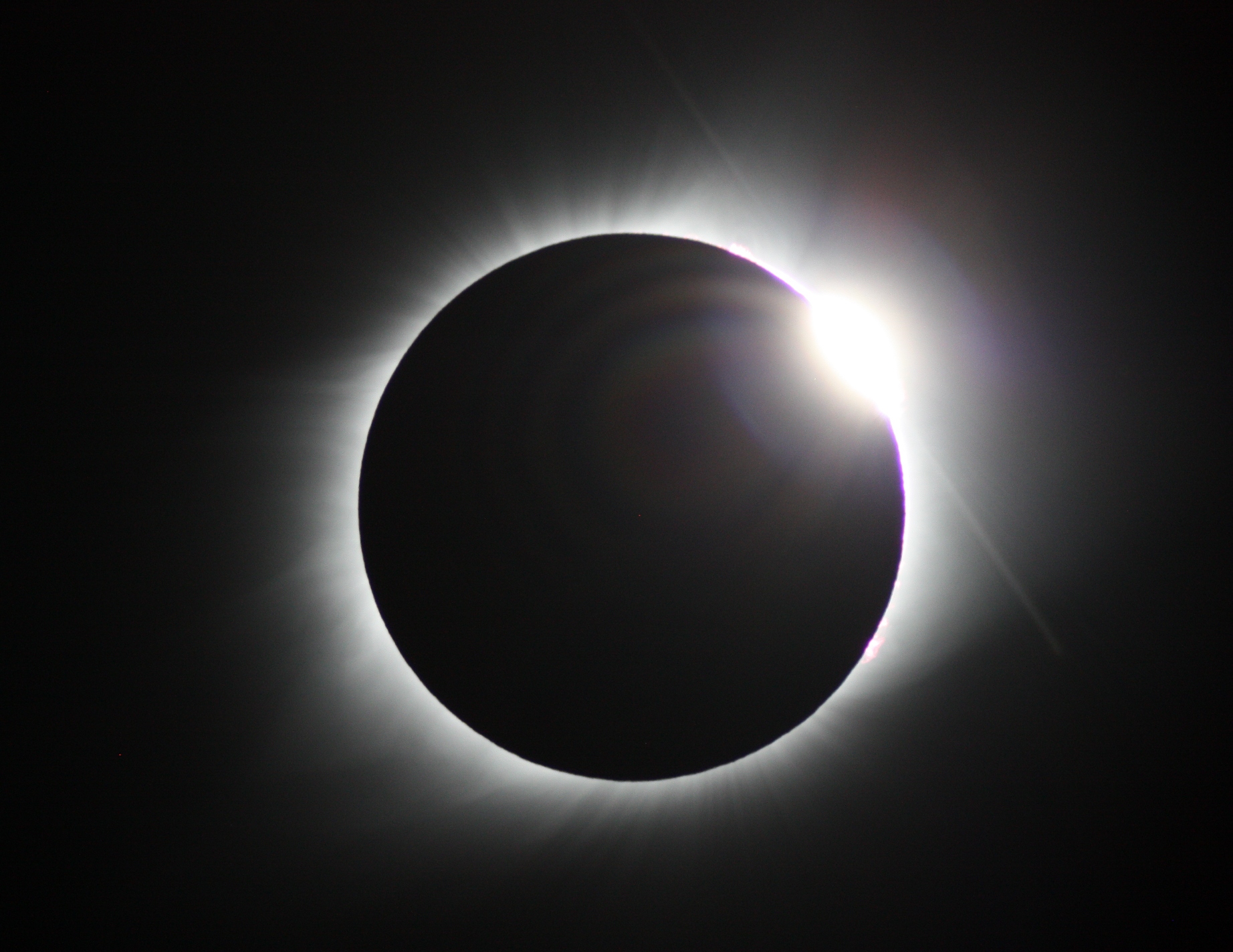 The diamond ring effect as the sun peeks back around the "corner". You can also see the solar prominences at the 1 o'clock position, and the 4 o'clock position.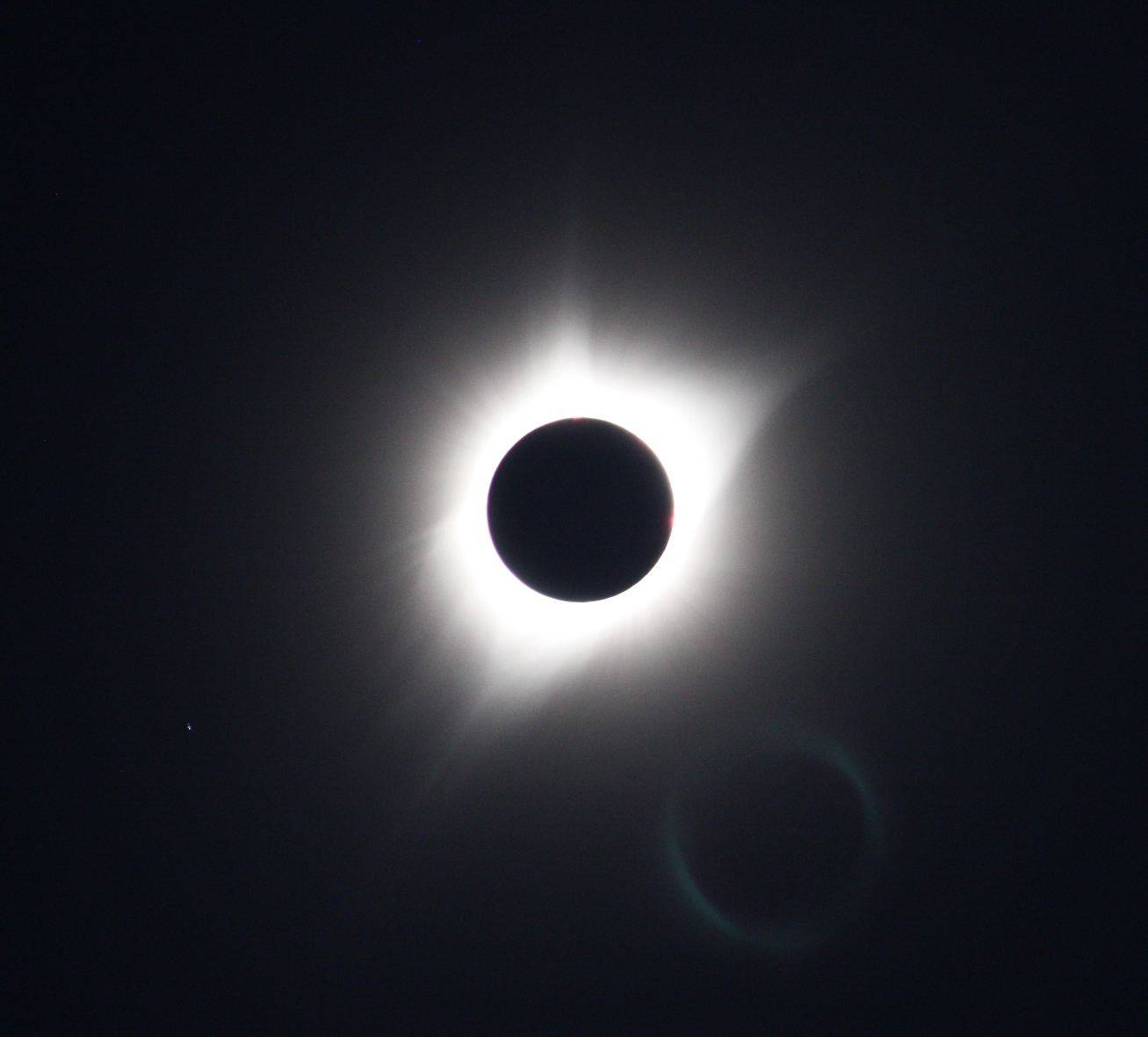 Lynn snapped this image with her camera (ie not hooked up to a telescope). The white dot to the lower left of the eclipse is the star Regulus, in the constellation of Leo. While not shown in this image, Venus was shining brightly to the far right of the sun. The ring to the lower right is just a reflection artifact with the camera lens and wasn't really visible.
---
The Voyage Home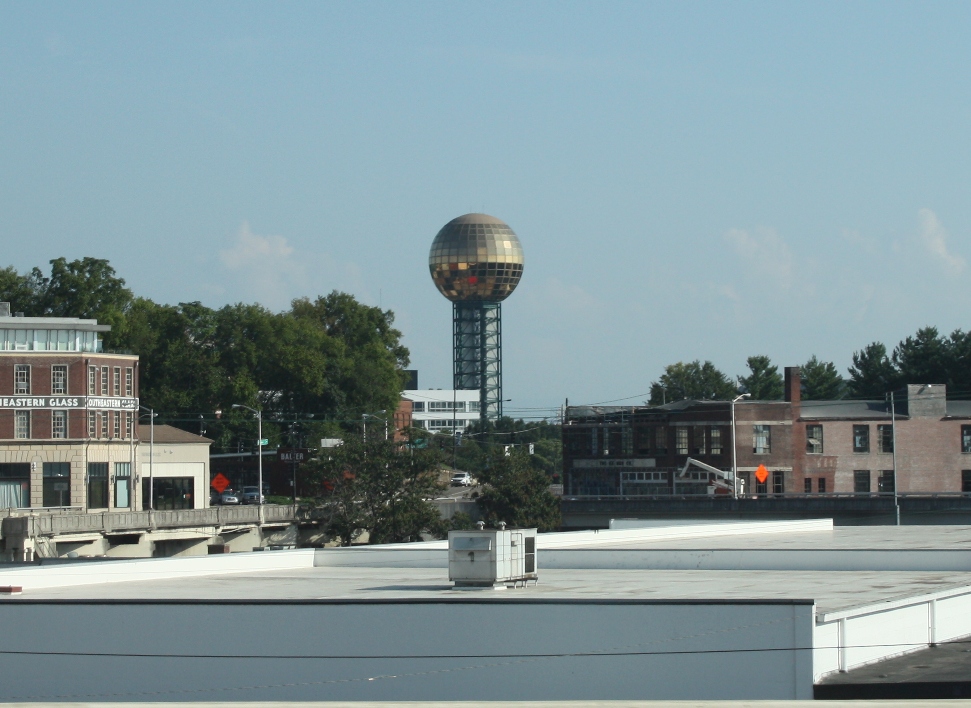 Lynn snapped this image of the gold "sunsphere" in Knoxville, Tennessee. The sphere is from the 1982 World's Fair.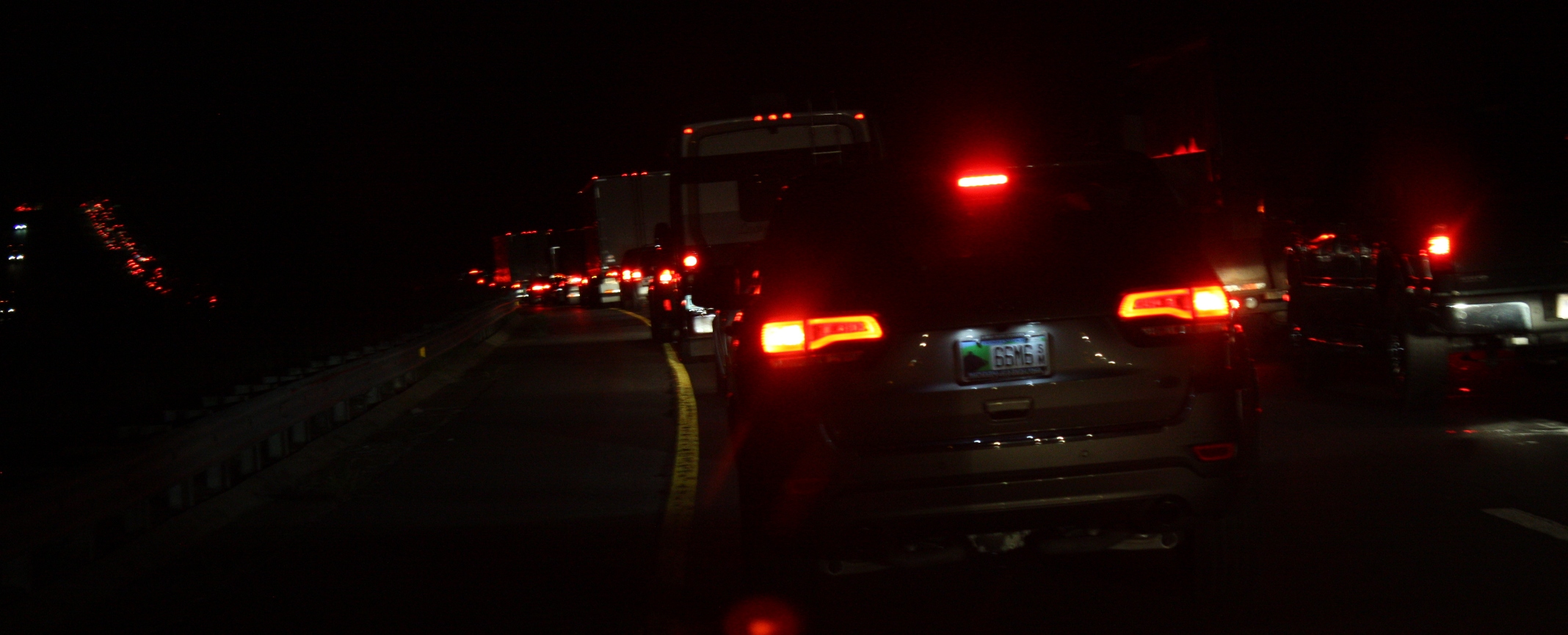 Miserable trip home. Traffic on Interstate 40 east totally shut down because of a truck wreck near Black Mountain, North Carolina. As far as we could see ahead of us, brake lights of stopped cars and trucks.
---
Solar eclipse path: http://xjubier.free.fr/en/site_pages/solar_eclipses/TSE_2017_GoogleMapFull.html
This link shows the path of sun on an interactive map similar to Google maps. It was VERY handy in deciding where to go, and how to get there. You can also view other eclipse paths.
---