Reporting A Comet Discovery
by Jeffrey L. Polston (May 25, 1999, updated 04/17/14)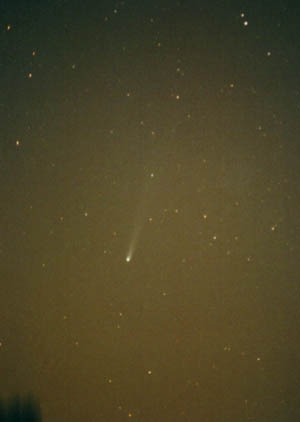 Comet Ikeya-Zhang, taken on March 10, 2002
Quite a few amateur astronomers have shared the same feeling. While looking through the eyepiece, you come upon a faint, fuzzy object that you can't identify. All serious observers know that a comet is the sole object that you can discover and get your name put on it. Your heart skips a beat as you allow yourself to dream, that you just may be looking at a new comet. Unfortunately, the odds are against you. Most likely what you are looking at is some distant deepsky object. Until you positively identify it, the excitement is still there.
This article was written as a guideline for myself, in the miraculous event that I do actually come across a new icy visitor to the inner solar system. There are other web sites that discuss various methods of detection and reporting, but I wanted my own, personal step by step sequence of events. You can use this article as a resource if you wish. If I happen to come across an unidentified object, this is the guideline I will follow.
---
Faint Fuzzy Off the Starboard Bow
Okay, there's an extended object in the eyepiece, and the identity is unknown. We'll assume at this point that it is not an obvious globular cluster or recognizable as a galaxy. We'll also assume that the object is real and not a smudge or reflection on the glass.
Step 1: make sure it's not a known deepsky object (nebula, galaxy, or star cluster).
This is an important first step that can save a lot of embarrassment. You don't want to "discover" a galaxy. So, does it appear on your star chart? If not remember that Sky Atlas 2000, Uranometria, and others are actually quite limited when compared to what is really up in the sky. If you have an extensive software package such as TheSky, push up the magnitude limit. You should know what your instrument and skies are capable of. I usually set the dimmest magnitude to be around 14 or so. That is beyond the range of my telescopes for normal observing. But if I encounter an unknown object, I will push the magnitude up to the maximum value. With my software, that value is magnitude 30. It's well beyond my telescope but I want to make sure that the software is going to display every object. Still not identified? Don't celebrate yet. Your software database might not include all deepsky objects. Go to Step 2.
Step 2: check the digitized sky survey or other source for non-plotted objects
The Space Telescope Science Institute's Digitized Sky Survey (http://stdatu.stsci.edu/dss/dss_form.html) is a great tool for identifying, or at least verifying if something has been recorded photographically. This web site will let you enter coordinates (use approximate coordinates) and area size. It will then download an image of that particular region of sky. If you see your faint fuzzy on the image, then it is not a comet, but a galaxy or other deepsky object that is not plotted by your atlas or software.
Another good source is the Burnham's Celestial Handbook. This three volume set is well packed with details on all kinds of objects found in the sky. It's particularly useful if your faint fuzzy is near another object because Burnham's descriptions are detailed enough to cover anything that may be interesting in the area. Still not identified? Go to Step 3.
Step 3: does the object move relative to the star background over time?
This step can kind of come anywhere between the other steps. Comets generally move pretty quickly against the star background. If you see motion, then you know for sure that this object is within the solar system. If you don't see any motion, be skeptical. A repetition of steps 1 and 2 may be in order. Some say to wait and confirm your observation on a second night. I don't know about you, but I just don't have that kind of patience. Given my luck, if I wait until the next night, 25 other people would have seen the comet by then. Rest assured, I will exhaust my resources, making sure it is a new comet, but I probably will not wait until the next night for confirmation, especially if I do see motion. If you're pretty sure your object is a comet, the go to Step 4.
Step 4: assuming the object is a comet, check to make sure it's not a known comet
You don't want to report the "discovery" of a comet that has already been discovered. First, you must make sure that it's not an old comet or one that has recently been found and reported. A good place to check is the Comet Observation Home Page (http://encke.jpl.nasa.gov/index.html NOTE: this site has disappeared) This site will give you tons of information on currently visible comets, recent news and observations, and lots of other stuff. Likewise, this site will give you orbital elements that you may plug into your software package for plotting the comet. They also provide a text file download for the more popular software packages so you don't have to type in the elements yourself. The orbital elements download files can be found at: http://cfa-www.harvard.edu/iau/Ephemerides/Comets/SoftwareComets.html.
Another source you may want to check is the International Astronomical Union (IAU) Central Bureau for Astronomical Telegrams http://www.cbat.eps.harvard.edu/services/IAUC.html This site has a lot of info, plus some comet observations.
The IAU Minor Planet Center ( http://minorplanetcenter.org/iau/Ephemerides/Comets/index.html ) lists observable comets with orbital elements.
If you can't find your faint fuzzy in all this information, then chances are now high that you have a new comet on your hands. For a sanity check, go through the steps again. If you've passed steps 1-4, you probably either have made a new discovery, or the comet is so new that it's discovery by someone else has not been reported yet (which might also mean you still get your name attached to it).
---
Reporting the Discovery
So now you are sure that you have discovered a new comet. What's next?
Step 1: gather your information
When reporting your discovery, give your full name, mailing address, and phone number. Other information to provide would be your location and type of telescope. Other helpful information would be sources you checked to verify that you have found a new comet.
You need to provide accurate position coordinates. You should state the equinox used (2000.0 or 1950.0). You don't have to be perfect here, but with grid overlays for star charts and especially digital setting circles, you should get relatively close.
You need to provide the date and time, in Universal Time. For east coast observers, add 4 hours during Daylight Savings Time (i.e. summer) or add 5 hours during Standard Time to get Universal Time. They prefer time in digital representation if possible (i.e. 4:30 is 4.5).
Write a reasonable description of the comet. Give magnitude estimates and size estimates. Does it have a tail?
Step 2: sending your information
There are a number of ways to report your discovery. The listed email for contacting the Central Bureau for Astronomical Telegrams is cbatiau@eps.harvard.edu Previously two other emails were listed, marsden@cfa.harvard.edu and dgreen@cfa.harvard.edu, so I'm going to copy them too just in case. They also have an online form at http://www.cbat.eps.harvard.edu/DiscoveryForm.html It has had previous problems, so I wouldn't count on it as my primary method.
Step 3: wait for confirmation
Now you just sit back and wait. The Central Bureau for Astronomical Telegrams will let you know if you have actually discovered a new comet.
---
IAU Central Bureau for Astronomical Telegrams website article, So You Think You've Discovered A Comet...
http://www.cbat.eps.harvard.edu/CometDiscovery.html
---